Originally established as a day-long conference for Connecticut women in Innovation, Technology, and Entrepreneurship, xCITE has since evolved into so much more! Still dedicated to bringing together women entrepreneurs and organizations from across Connecticut and beyond, xCITE is shifting its focus towards an increased frequency of networking and mentoring opportunities. The result of this shift is a reengineered program with an emphasis on building a committed network of women entrepreneurs and will engage participants year-round in meaningful opportunities designed to connect, support, and inspire.
Hosted by the University of Connecticut, engagement in our program will help to:
build a network of diverse women entrepreneurs, innovators, and leaders launching, growing and supporting businesses in Connecticut
help to identify areas of opportunity to support women entrepreneurs
develop skills critical to launching and leading innovative and entrepreneurial projects and ventures
connect with peers, resources, and support services in Connecticut's business community.
For more information about xCITE, contact Alycia Chrosniak

The Power of Personal Branding Mastermind Series
A three-part workshop taught by Carrianne Polo where participants will play an active role in their own personal brand development!
Come prepared to discover your own brand story and gain actionable insights and tactics. Limited to 10 participants total, each session will include an interactive, guided activity that explores concepts related to designing, developing, and leveraging one's personal brand. Participants can expect the following outcomes:
Thursday, January 20, 2022
Craft Your Story: How to curate a clear and intentional brand that reflects your goals and purpose
Thursday, February 3, 2022
Leverage LinkedIn: Gain a deep understanding of how to use LinkedIn to build your network and drive career growth
Thursday, February 17, 2022:
Share Your Success: How to share your story and leverage self-promotion within your content
The events run from 5-7pm each night. Tickets are $75 per person (total) for the three sessions.
Only 10 seats available!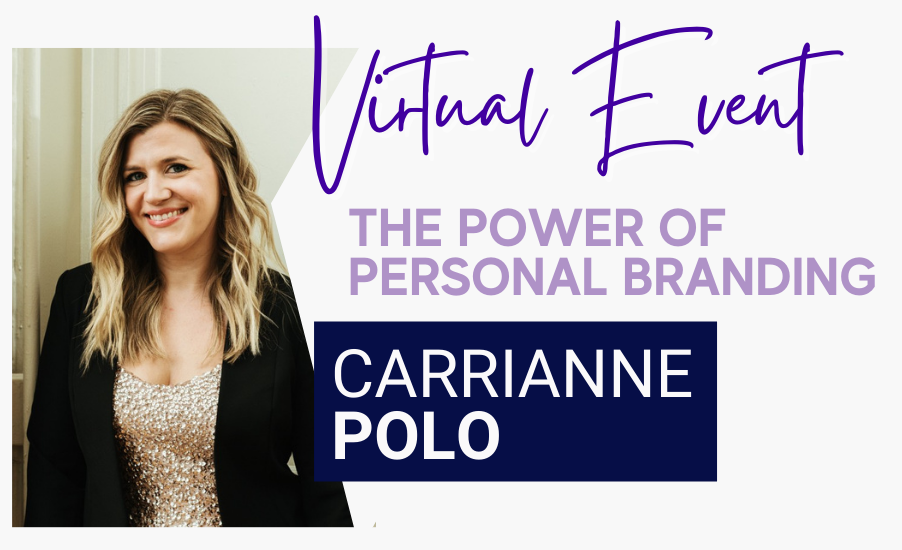 The Power of Personal Branding
October 18, 2021 | Virtual Event
5:00 - 6:00 p.m. (ET)
Carrianne Polo, CEO, CCO, New Park Creative
Never before has there been so much emphasis and desire to use our talents and sense of purpose to create impact—in our lives, careers, and the community at large. Harnessing the power of our personal brand and leveraging it to reach our goals is critical to living a more meaningful and joyful life. In a world where an individual's public persona is accessible and readily available to anyone who is looking, taking control of the message and crafting a strategic brand story is essential, and if done correctly, can bring tremendous opportunity into our lives. Join Carrianne Polo to learn just how powerful personal branding can be and how leveraging the right narrative can accelerate success in business and in life!
Questions?
If you have any questions, or if you require an accommodation to attend this event, contact CCEI (Connecticut Center for Entrepreneurship and Innovation) at: ccei@uconn.edu
Program Sponsors: